Reckoning with the Sheriff
This fall, I got the chance to return to my electoral roots in collaboration with some really smart organizations fighting against our racist criminal justice system in America with campaigns for County Sheriff.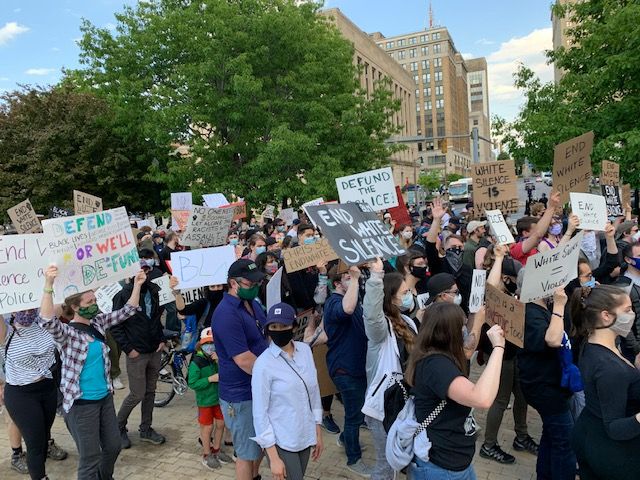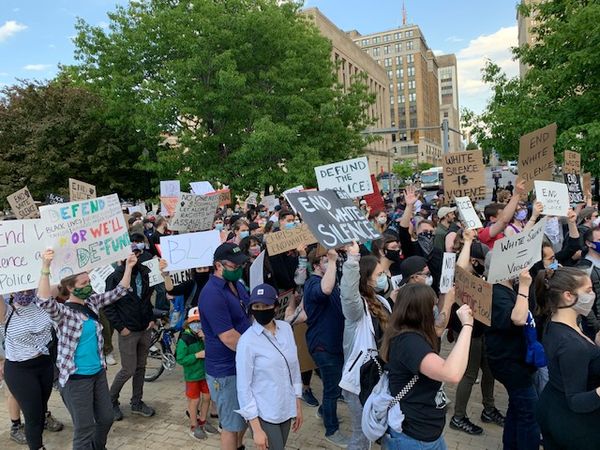 Vote Bot Returns
Long before I was building actual robots and obsessing over natural carbon removal, I was a shaggy haired political organizer knocking doors and dancing in a cardboard robot costume to remind young people to vote in the midterm elections.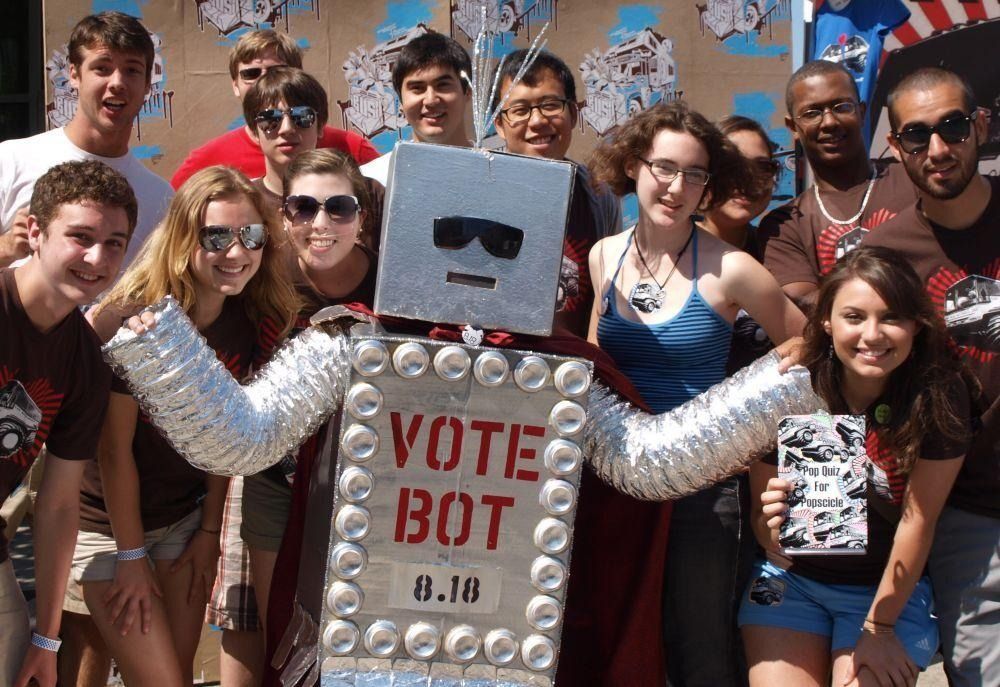 This fall, I got the chance to return to my electoral roots in collaboration with some really smart organizations fighting against our racist criminal justice system in America with campaigns for County Sheriff. It was a crash course for my team and I in how to support this long-term effort and the organizers leading it. With this blog I'm trying to "open-source" what we learned, in the hopes that it will be useful for anyone else attempting this type of work.
A National Reckoning
The George Floyd Uprising that kicked off in the summer of 2020 has provoked a national reckoning on racial justice, and put a spotlight on the criminal justice system's role in reinforcing and upholding white supremacy.
On the flip side, the "law and order" rallying cry from the right has driven many Democrats and Republicans alike into "tough on crime" stances that reinforce a system of human caging, mass deportation, and unaccountable police departments. As we've seen time and time again, the Right relies on coded (and increasingly, not so coded) racist language to perpetuate their agenda through the "criminal justice system." What do we do?
Direct action, lawsuits against police violence, policy work on issues like bail reform, donating to bail funds, and winning elections – not to mention insurrection in the streets – are all part of creating a more just society. As someone looking for a place to put in work and make a difference, I have struggled to move beyond marching in Brooklyn and donating to bail funds. But this year, with some help from friends old and new, our team was able to get involved in an avenue of change I hadn't previously considered: county sheriff elections.
At first, I was like "Wait, you want me to help elect a sheriff? Aren't sheriffs the bad guys?" And, yes, county sheriffs are some of the worst perpetrators of violence in our terribly violent system. So, just as activists have been working to replace right-wing prosecutors with reformers, organizers around the country have been doing the same with county sheriffs. As I learned from some new friends, electing reformer sheriffs is a harm-reduction strategy that has gained a lot of traction on the ground in communities ranging from rural North Carolina, to New Orleans, and Buffalo, New York, to Phoenix, Arizona – and it's currently making people safer.

The strategy behind sheriff elections includes, but also goes beyond harm reduction. We focus on sheriffs not just to keep people from dying but also because we need to transform this fundamentally racist institution, both from the inside and outside. Elections are one necessary strategy like budget fights, litigation, and state legislation – the organizers I met this summer do all of that "reforming" work with the long term goal of fundamental transformation in mind.
Sheriffs: With great power comes ZERO accountability
The sheriff's office might be the most overtly racist position in American government. The sheriff is, to paraphrase James Baldwin's essay "To Crush a Serpent," "hired by the Republic to keep the Republic white." Very few other countries have an equivalent county-level law enforcement chief, and definitely not one that controls more prisoners, firepower, and real estate than typical municipal police departments.
Why did this happen historically in the USA? What did we need sheriffs for?
From Maurice Chammah's excellent piece in the Marshall Project:
After the Civil War, sheriffs assumed the power vacuum left behind by slave owners, according to Douglas Blackmon, author of the 2009 Pultizer-winning history "Slavery by Another Name: The Re-Enslavement of Black Americans from the Civil War to World War II." They were empowered by Black Codes to make arrests for congregating in public and being unemployed, and they oversaw the leasing of black prisoners as laborers in an economic system that in effect continued slavery. "Arrests surged and fell, not as acts of crime increased or receded, but in tandem to the varying needs of the buyers of labor," Blackmon wrote.
For a more in-depth explanation, I highly recommend Douglas A. Blackmon's Slavery By Another Name.
But this isn't the popular understanding of a sheriff in the US today. Before last year, I would have pictured a Wyatt Earp type or other old "Western lawmen," the kind who can't fit in the same town as a villain. *queue tumbleweed* But this has nothing to do with the modern sheriff. The reality is that the role looks different depending on the region, but their scope is often extremely broad, with little oversight from the public other than elections once every four years. Most commonly they control jails, patrol rural areas, administer civil proceedings, conduct evictions, and issue permits to carry concealed weapons.
That first one – control jails – is big. There were 647,200 people held in county jails as of Spring 2021, the vast majority of whom have yet to be convicted of any crime.
A few more facts (see www.defundsheriffs.org for more):
More than 1,000  people die in county jails each year, and the COVID pandemic has only worsened conditions inside.
Sheriffs serve as the bridge to mass deportation in collaboration with ICE. In 2018, 47 percent of internal deportations came through sheriffs.
Sheriff's deputies, who make 2 million arrests each year, are a central pillar of state-sanctioned violence.
Communities Fighting Back
There is a long history of communities resisting and transforming sheriff's offices, from John Lewis leading protesters across the Edmund Pettus Bridge in defiance of violent repression from Sheriff Jim Clark, to the Bazta Arpaio movement's ouster of Sheriff Joe Arpaio in 2016
In the short term, holding sheriffs accountable will reduce arrests, close jails, decrease incarceration rates, and stop deportations. People putting pressure on sheriffs saves lives, now. And as we continue to build power and community support structures, we will be able to close down this deeply troublesome office all together.
But the majority of candidates for sheriff run unopposed. Some of the worst perpetrators of injustice are routinely elected unanimously, because no one ran against them. We can't just cede these elected positions un-contested, it leaves people incredibly vulnerable to the worst types of injustices our incredibly unjust system is capable of. We don't just need to run candidates, we need to run great candidates and win. And if we're going to recruit strong candidates, we need to raise the profile of these races and show that candidates with a true commitment to systemic change can win.
And that's exactly what happened this fall.
Alongside some of my organizing pals of old, we connected with Max Rose, Executive Director of Sheriffs for Trusting Communities, an organization working in partnership with long-standing organizers to build an alternative vision for the role of sheriff and elect champions who will work to stop racist patterns of policing, reduce the jail population, and refuse to collaborate with ICE.
Last year, 2021, was an odd-numbered year, which means there were not a lot of elections happening. But Max let us know about two races in particular, one in Erie County, NY (home to Buffalo), and one in Orleans Parish, LA (home to NOLA), with strong candidates running on reducing jail populations, increasing police oversight, and cleaning up hazardous jail conditions that have resulted in dozens of deaths in both counties' holding centers over the past 20 years.
In both places, phenomenal local organizers have been working for decades to shine a light on the inhumane jail conditions and unchecked state-sanctioned violence in policing – things like keeping women giving birth in solitary confinement, or not fixing overflowing toilets and letting feces remain in cells for months. Activists have run candidates to defeat the incumbent sheriffs creating these atrocious conditions many times before, and lost; but each time they got closer to victory. And this year, they had some champion candidates on the ballot.
Case Study #1: Storytelling in Erie County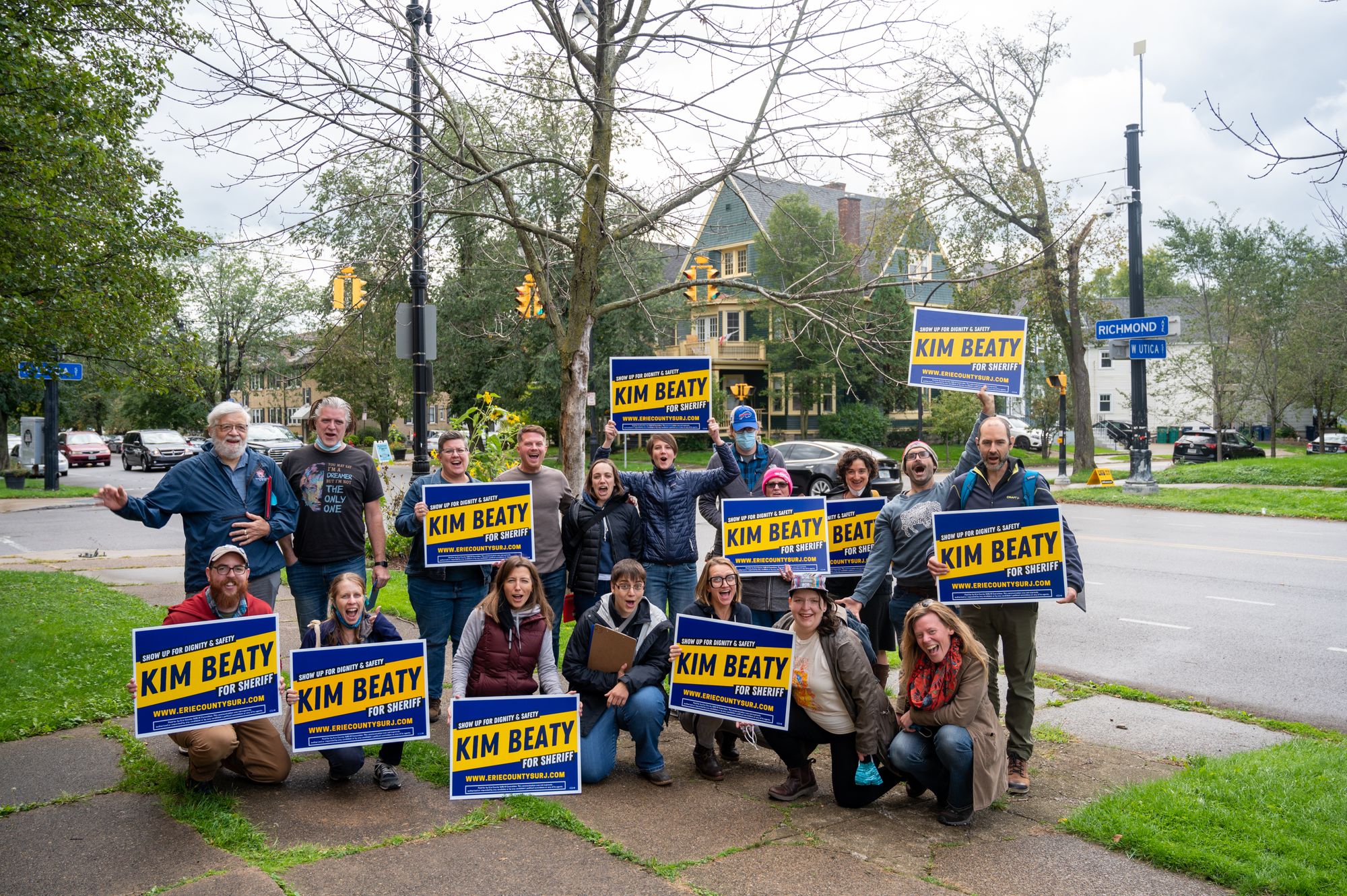 In Erie County, former Buffalo Police Chief Kim Beaty stepped up to challenge John Garcia, the hand-picked successor of outgoing Sheriff Tim Howard, whose tenure was marked by cases of prisoner abuse, federal citations, and the death of 32 people in Erie County jails.
Garcia ran on a platform of maintaining the status quo and upholding the "law and order" philosophy that earned the Erie County Holding Facility a designation as one of the state's "most problematic local correctional facilities" in a 2018 report by the Commission of Correction.
Max from Sheriffs for Trusting Communities connected us with the good folks at Showing Up For Racial Justice (SURJ), a national organization focused on educating and engaging white people in the fight for racial and economic justice. SURJ's local chapter has been working for years in partnership with people of color led organizations in Erie County to shine a spotlight on the conditions in the jail and call for real accountability for the negligence and abuse occurring daily within its walls.
After some initial conversation with SURJ about how we could help, we learned that SURJ's volunteers were getting a great response at the doors, but limited time and resources meant that there were only so many people they could reach in person. Given our team's technology background, we set out to see if we could replicate their success in an online format — a "virtual door knock," if you will.
We teamed up with Human Agency, a digital firm with a focus on progressive causes, to help us design a digital ads program to augment the robust, on-the-ground effort SURJ and co. had already put together, while capturing some knowledge that could help their long term organizing effort.
Here's what we learned:
Personal stories are powerful, efficient, and effective. And can be made on a phone.
Instead of blowing our limited budget on a high-priced camera crew, we simply invited volunteers to record themselves on their phones sharing why this election mattered to them and send it back to us using Formli, Human Agency's app that was perfectly suited for this purpose. The videos were unscripted and largely unrehearsed and we had just a matter of days to turn them into content. Despite all of that, the results blew us away.

Not only did we get a great set of heartfelt responses, but they quickly became our best performing ads, outdoing the more traditional, professionally designed content.
We love this approach for a lot of reasons: It performs great (as far as we can tell, more on that below), it's super fast compared to traditional video creation, it democratizes the messages — and messengers — of the campaign by sourcing great stories and ideas from volunteers who may not normally have a good way to make their voice heard, and it's a heck of a lot less expensive than traditional video ads. As we know, every dollar that goes to production takes away from the dollars used to put it in front of voters.
We'll certainly be trying this again in the future, and would highly recommend user-generated content to other people thinking about digital campaigns.
Digital's impact in politics is tricky to measure
Digital ad programs were built to sell you things, and that's how I'm used to using them. Once your pipeline is fully set up, it is pretty easy to say "we spent $X on ads to generate $Y revenue" and understand the effectiveness of your marketing campaign. But in elections, you do not have the same kind of real-time feedback loop you have with sales. Our successful "conversion" was folks showing up to the polls and voting for Kim Beaty, Democrat for Sheriff. Fortunately (in the name of privacy), we cannot know how the people we reached with our ads actually voted. The best we can do is know if they voted – not who they voted for – after 3-4 months and all the dust has settled at the State Elections Board.
For a team trying to see if their ads are successful, this makes it way harder to understand how the content you're putting in front of people is being received. Is it actually moving people to vote? Or is it just what the Facebook algorithm likes the most? Turns out, that is impossible to say without a 5x bigger budget for a bigger sample size and a post-election poll. But, even though we can't actually measure the conversion we are aiming for (votes!), we still needed to pick a key performance indicator (KPI). So, our metrics for success were largely based around "engagement," aka views and clicks. Only problem: clicks aren't votes.
We executed a really good digital campaign and effectively reached our audience with solid content, all on-budget and on a really fast turnaround time. Great work from the team! But I still left this project feeling less sure of digital media's role in winning progressive campaigns than I was when we started it. I would love to talk to anyone out there who has done a lot of work here to understand better ways to measure success and keep experimenting!
A tough loss in Erie County
My team and I had the immense pleasure of traveling up to Buffalo ahead of the election, where we were welcomed with open arms by the SURJ family. After a weekend of knocking doors, making calls, and experiencing Buffalo's truly top notch Halloween festivities, we woke up on election day cautiously hopeful that Kim would be the new Sheriff-elect by the end of the night.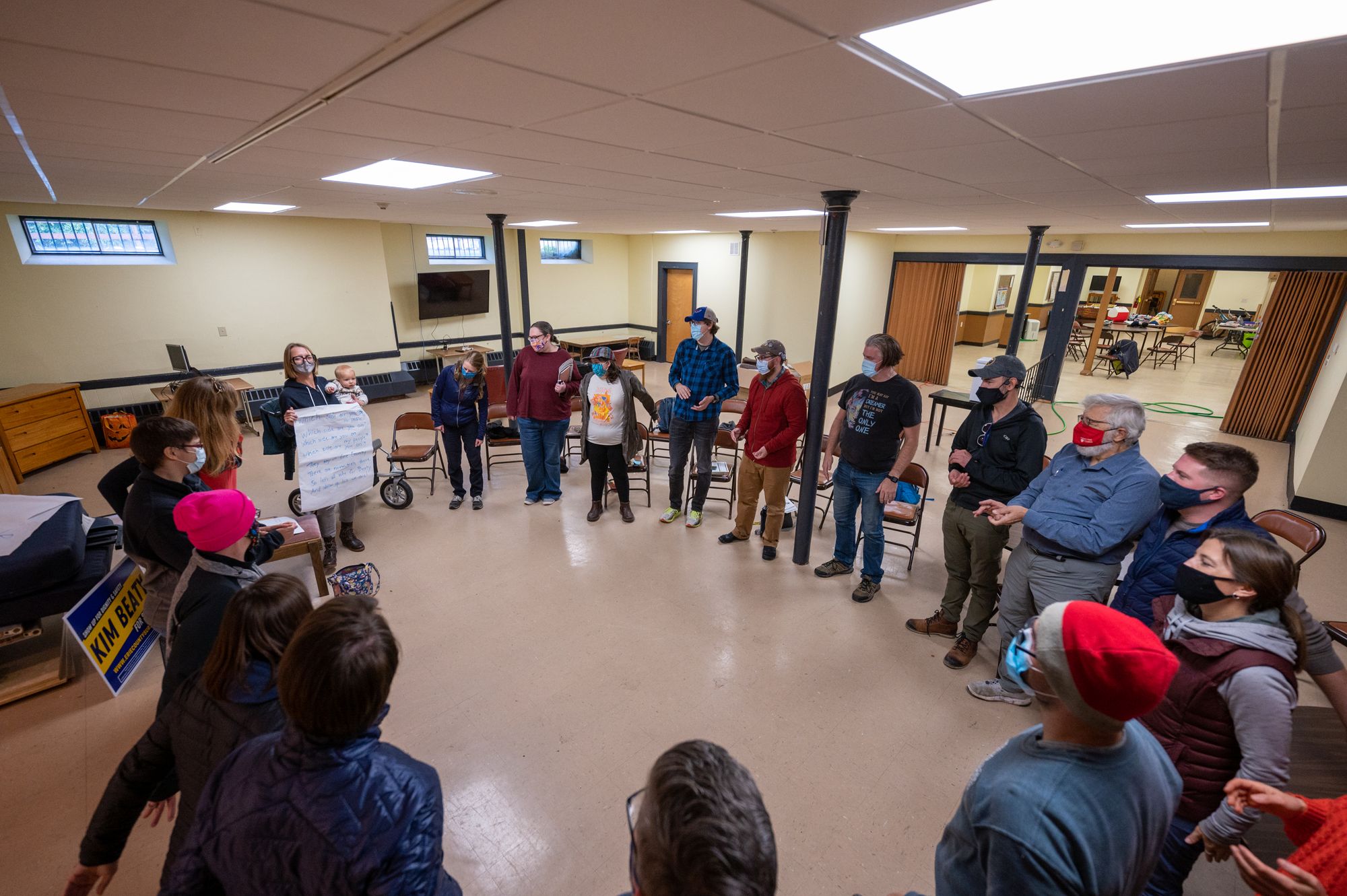 Alas, it wasn't to be. Beaty, the Democrat, lost narrowly. The contentious Mayor's race drove a record Republican turn-out, and even all our organizing was not enough to beat the down-ballot effects. It was a tough night in Buffalo for progressives all around.
But no one left confused about what needs to happen next. The work goes on. We ended the night in a lopsided circle at the bar we'd commandeered to watch the results. SURJs team brought us together after the tough news, and we repeated the names of the 32 people who've died in the Erie County jails. It was a reminder of why this fight matters so much, and a promise to those 32 people that we'll keep fighting. Those volunteers and organizers are some of the most committed and inspiring people I've ever come across, and they're building a movement that will lead to a more just Erie County. We will be back to Buffalo!
Case Study #2: New Orleans' Jedi Knight for Justice
On the morning of December 16th I got a call from some deeply sleep-deprived but clearly ecstatic folks from our team. They'd spent the past few days in New Orleans leading up to the runoff election, and they were calling with great news: Career police reformer Susan Hutson had pulled off a stunning upset over 17 year incumbent Marlin Gusman to become the Sheriff of Orleans Parish. Gusman became infamous during Hurricane Katrina for leaving thousands of people inside a flooded jail and being in bed with construction companies that profit from new jail construction. In contrast, Hutson ran on a platform of no new jails in a city known as "one of the most incarcerated places on the planet."
From Nola.com:
"Hutson has pledged to double down on efforts to reduce the jail's population, to stop an 89-bed jail expansion, to end charges for phone calls from jail, and to bring the lockup into compliance with a federal reform agreement."
Our team spent Election Day in the most New Orleans way possible: sign waving with brass bands, and dancing on trolleys as one last festive reminder before polls closed.
And Hutson won! Election night was a beautiful sight: Crying, hugging, and dancing in every direction.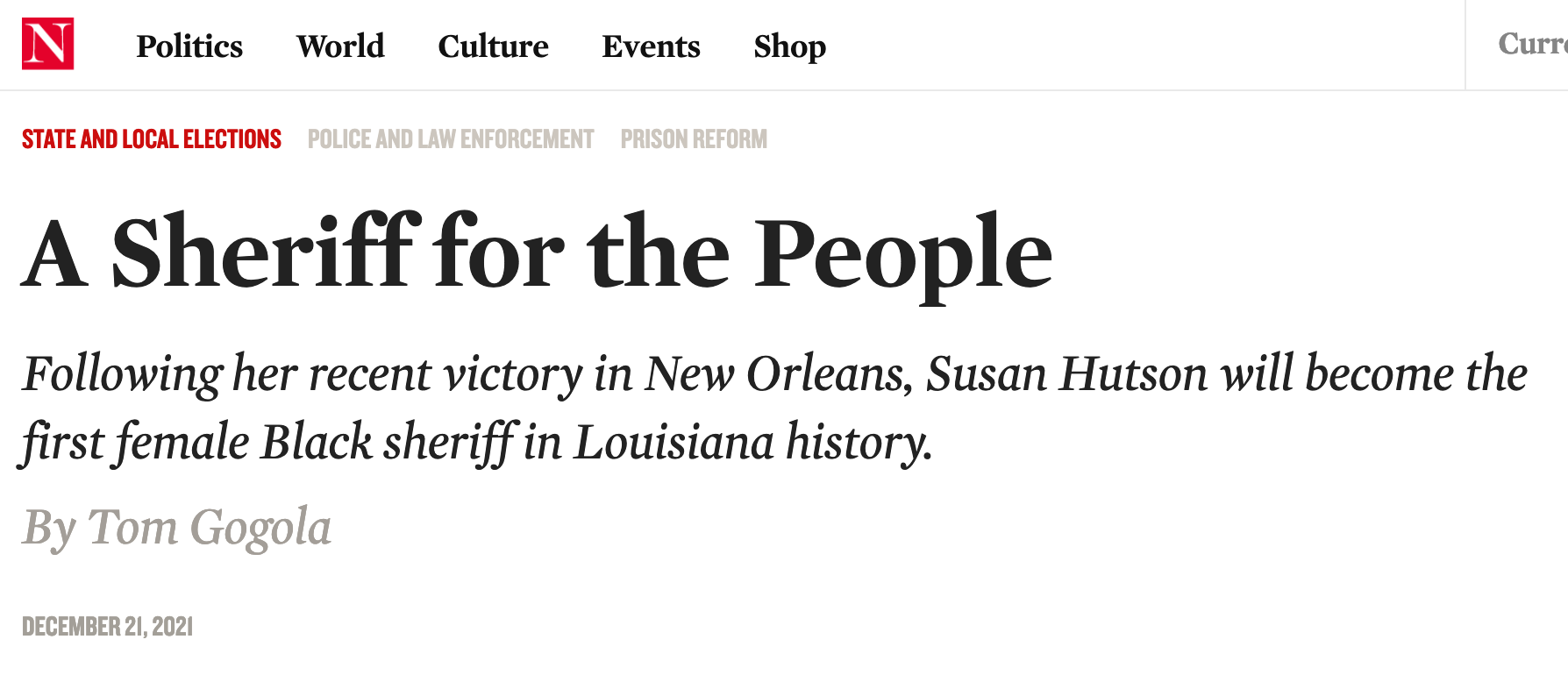 Victory in Orleans Parish
So how did she do it?
Deep, relational organizing over the long term
In addition to Susan and her team – who had the courage, conviction, and qualifications to win – the people that made this victory possible were organizers who had been working for decades to bring about this moment. People like Sade Dumas and her team at Orleans Parish Prison Reform Coalition, who have worked tirelessly and strategically to stop a new jail. Norris Henderson and VOTE, who provided invaluable leadership and voice, and mobilized thousands to the ballot box. Lynda Woolard, who with Norris and Sade's leadership, ran an incredibly powerful independent expenditure for PAC for Justice, working closely with the teams at VOTE, Step Up for Action, ACLU and others. And all those volunteers who knocked doors, made calls, and kept the heat on Gusman and his pals.
There's no substitute for deep, relation-based organizing, and Susan's victory showed just how effective that work can be. For those of us thinking about how to support movement work, there is maybe no better place to invest resources.
Just as we saw in Erie County, the most powerful messages come from people, not campaigns. Susan's campaign, VOTE, and PAC for Justice all did excellent work creating a platform for people who have been directly effected by the hazardous jail conditions in New Orleans. There were many memorable ads, but this one from PAC for Justice stuck with me:
Shining a light on corruption
Sheriff elections are rife with conflicts of interest. The criminal justice system is a big industry, and the corporations that stand to gain from more expensive, unaccountable jails - construction companies, healthcare providers, and weapons manufacturers to name a few - are major backers for sheriff candidates who are eager to expand the prison industrial complex. Communities for Sheriff Accountability and Common Cause put together a thorough report documenting the rampant conflicts of interests in sheriff elections.
This race was no exception. VOTE made an excellent ad highlighting the overlap between Gusman's funding base and the contractors who would benefit from his plan for a new jail:
This is far from a complete account of the phenomenal work that went into this winning campaign, but they're some notable moments that can help us start to develop a clearer picture of how to win these elections around the country. As we continue the fight to #FreeThemAll, Hutson's victory is going to mean a swift and meaningful reduction in harm to our fellow human beings in Orleans Parish who wake up every morning trapped behind bars.
What comes next?
The 2022 sheriff electoral landscape is poised for a major shift, as those on both sides recognize these contests as a front line in the fight around policing and incarceration. We know these races are winnable – and we know the consequences of losing them, too. Even though they don't have the same cache as some of the big national races, and even though campaigning for a sheriff is a little weird, winning these elections is very important work. We're going to keep working with organizations like Sheriffs for Trusting Communities to support the on-the-ground activists across the country fighting to elect reformers to County Sheriff positions. Reach out if you're interested in joining us!